Total Product Lifecycle
Management Services
It takes a village to develop a new product:
Developing a new product is a collaborative effort: Both Medical Device and Pharmaceutical/Biotech companies allocate significant portions of their budgets to the crucial discovery phase of product development. While the R&D/Development team is responsible for driving the product's creation, the challenge lies in successfully transitioning from R&D to the marketplace.
Mastering this transition is essential for the well-being of your patients and the success of your business. Some companies rely on regulations to guide their processes, adhering to FDA QSR/ISO standards or ICH Q8, Q9, and Q10, or a combination thereof. Others draw from past successful approaches. However, true success lies in adopting a cross-functional approach that involves the entire organization in Total Product Life-Cycle (TPLC) Management. This recognizes that a product developed today requires ongoing support once it enters the market.
At the outset of the process, the team establishes a charter with clearly defined deliverables, setting goals as the product progresses from conception to development (Big R to Big D). This allows for Team and Management Reviews to assess progress and provide decision-making tools for continued funding of projects that carry inherent risks.
Development projects, much like snowflakes, differ from company to company and product to product. The diagram below presents a highly generalized overview of a potential TPLC process, highlighting the integration of the organization leading to successful product launches: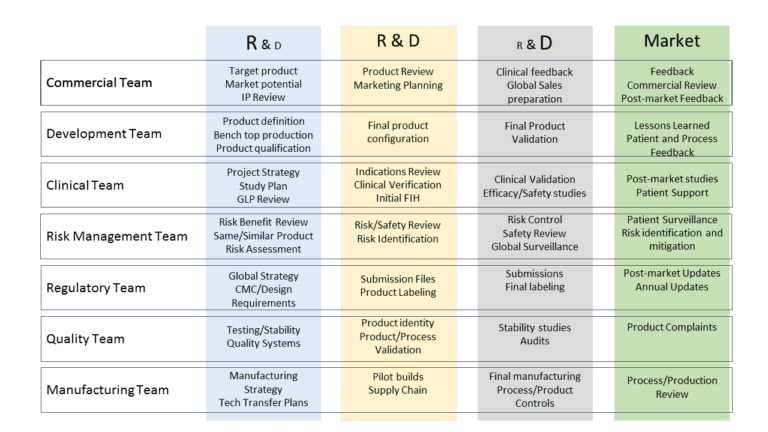 Example of Team Deliverables during the TPLC process
Having a well-defined process enhances product development cycle time and, more importantly, provides a framework for surpassing global regulatory requirements.
With over 35 years of experience overseeing product development in the Pharma, Medical Device, and Combination Product industries, Consult Wing can assist in defining your TPLC process or enhancing your existing practices to meet your organizational needs.